Posts: 822
Site Admin
Tags : : eweather, temperature, iphone, alerts, apple, watch, glance, location, geo-location, home, screen
We're constantly working to make eWeather HD the best weather app for iPhone, iPad and Apple Watch. 
AppStore link:  
https://geo.itunes.apple.com/us/app/eweather-hd-10-day-weather/id401533966?mt=8&at=10lbag=yuku
Your support is invaluable! Tanks a lot for all your ratings and reviews on the AppStore.
Questions or comments? Let us know through our in-app support or weather [at] elecont.com
Enjoy 
more than a dozen new features
 with your eWeather HD 3.6:
1. 
Geo-targeted severe-weather alerts and home screen badge
. New eWeather HD uses your current location (even if the app is in background) to send you severe weather alerts for your physical location and (or) display temperature on home screen badge.
2. 
Background updates
. eWeather HD refreshes weather data in background (when the app is closed) using smart algorithms so you'll get updated data when you open the app. It works even for "Follow me" locations.
3. 
Spotlight
. Now all your cities, saved in list of favorites are accessible directly from Spotlight.
4. 
3D-touch
 quick actions (using force touch on home screen).*
5. 
Weather Glance for Apple Watch
. The glance provides immediately relevant information about current weather conditions and weather forecast for the next 9 hours. Tap on the glance to open Apple Watch app.
6. 
Multiple locations in PUSH notifications
 for severe weather alerts (U.S. only). You may specify up to 5 different cities for PUSH alerting.
7. 
Ocean/sea buoy stations
 (see Alerts/Earthquakes/Tide/365 section). eWeather HD provides up to ten different values from over 700 stations across the world. The amount of reported data depends on buoy station. By default the app reports data from closest buoy, however you may override it and choose the best station for your location.
8. 
Improved tide predictions
 for over 4000 locations in the U.S.
9. Added support for 
multiple Apple Watches
.
10. 
Customizable severe weather alerts
 for PUSH notifications. Enable or disable particular severe weather events from over 127 different types for PUSH notifications.
11. 
eWeather HD introduces a scheduler for severe weather alerts
. Now you can specify a time when you want to get push notifications for severe-weather events:*
-when alert starts (the app currently works in that mode)
-on time of publication,
-adjustable delay (up to 60 minutes) before alert becomes active
Please note that time of publication depends on NWS: in some cases they publish alerts just before the activation time.
12. Fixed a problem with vertical scrolling for weather alerts and earthquakes. Now it works much smoother.
13. Various performance improvements in weather map, weather clock modes for older devices
14. Have an iPhone 6s? We resolved a few problems related to graphical user interface in alerts or air pressure / temperature diagram section.
15. Have an iPhone 4s? We resolved a problem with keyboard when adding new locations to the list of favorites on iOS 9.3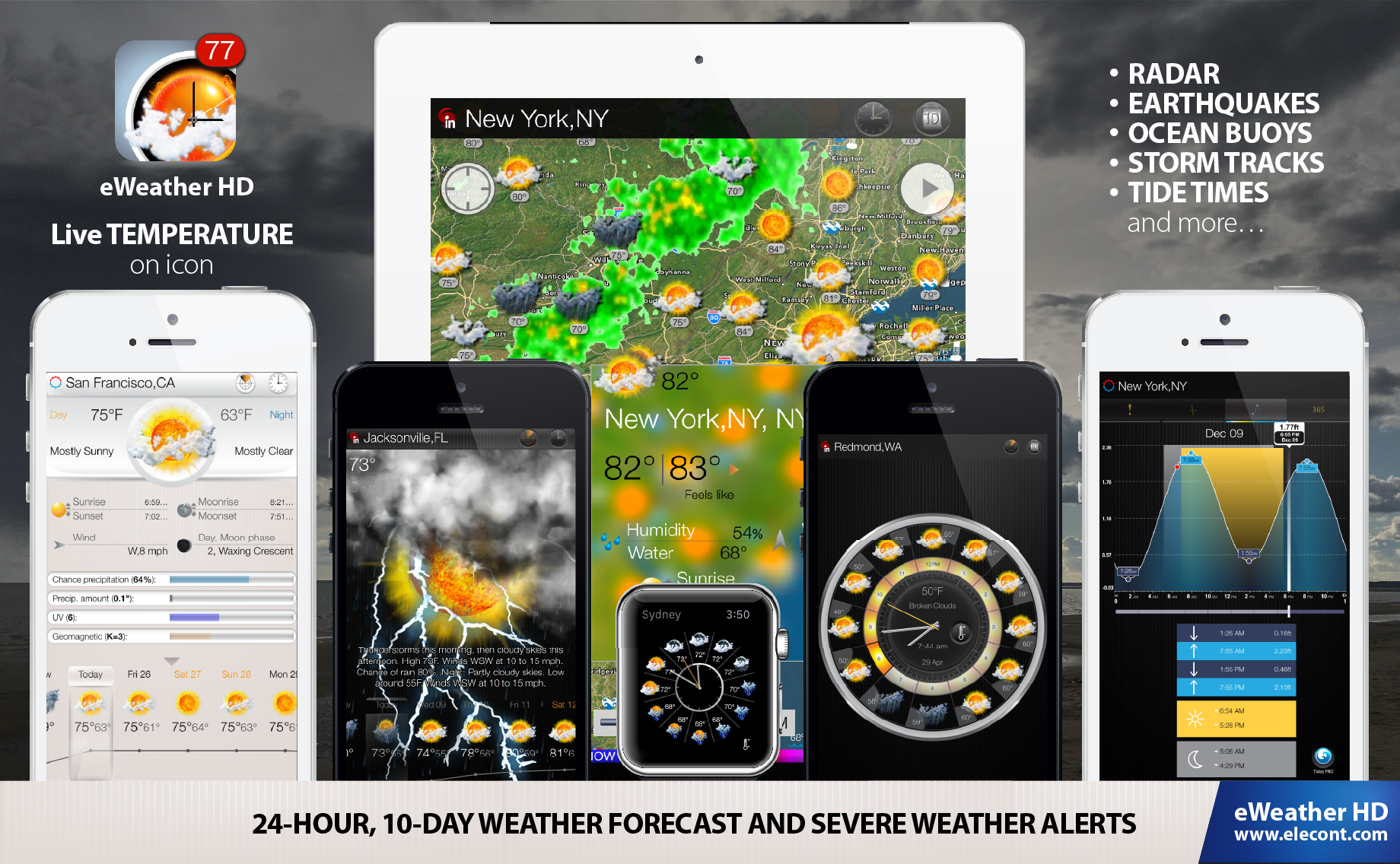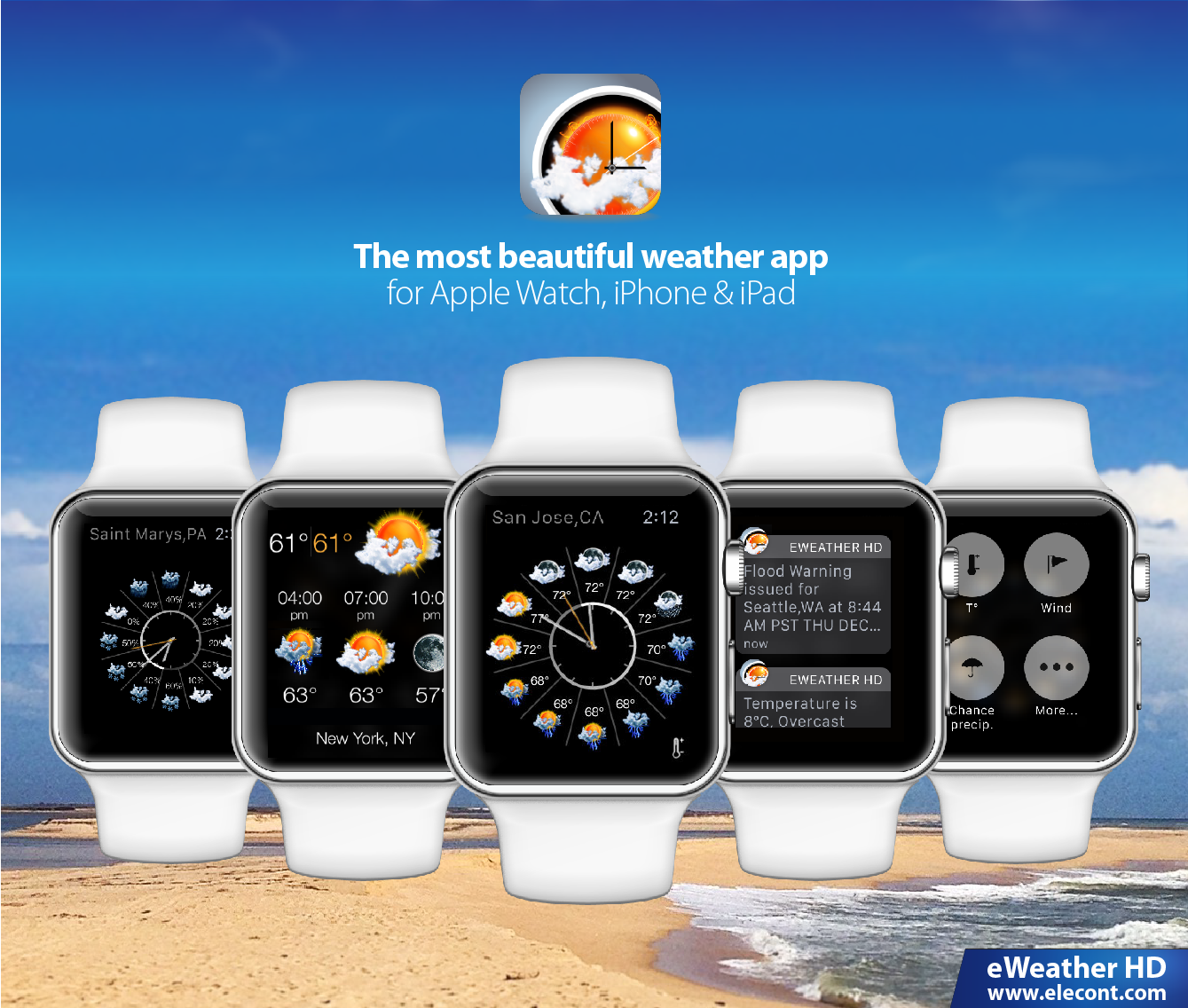 The World's only iPhone, iPad and Apple Watch weather app specifically designed to provide all the info you need in one place: the most accurate hourly weather forecast, detailed 10-day weather forecast, long-range weather forecast up to 12 months ahead, tide predictions, earthquakes, sea surface temperatures, buoy data, weather alerts, animated weather maps and many other features!
[NEW] Beautiful Apple Watch weather app and Glance with "Live" weather forecast (8 data types)
[NEW] Location-aware severe weather alerts and temperature on home screen badge
[NEW] Sea/ocean buoy weather (NDBC), Up-to-minute tide predictions (NOAA)
eWeather presents its information in an amazingly intuitive format, with a simple, user-friendly interface with gorgeous animations, two widgets for Today screen, unique Apple Watch app and realtime temperature gauge right on your home screen. 
▸ Provides all the weather info in one place 
▸ Can minimize the harm to your property and protect your personal safety (Storm tracker, Alerts, Earthquakes, Tide predictions and etc.)
▸ Based on an original idea, eWeather HD lets you put a simple, smart and beautiful analog clock with hour-by-hour weather forecast right on Notification Center
▸ Weather Clock interface can tell you at a glance exactly when it will rain (or snow)
▸ Customer rating 5.0/5.0

Key features:
√ Provides 24-hour, 10-day and 365-day weather forecasts, current weather conditions for countries all over the world
√ Uses two weather providers (located in the US and EU) to bring you precise hourly forecasts as well as a full 10-day forecast. Multi-provider system lets you choose the most accurate weather data for your location
√ Displays weather by using interactive animated weather map: weather forecast, weather radar, severe-weather alerts, sea and beach water temperatures, data from NOAA buoys, storm paths and affected areas, earthquakes
√ Includes Two beautiful weather widgets
√ Helps you to plan your outdoor activities with the amazing accuracy. Just take a look at the Weather Clocks and you'll be secured against any weather surprises
√ Uses latest technology to show you the live current temperature right on your Home Screen
√ Alerts about weather that triggers Migraine Headaches. Now you always know the cause of headaches or migraines if it is linked with changes in the air pressure
Features:
• Two Reliable, Accurate Data Sources based in the US & EU 
• Full-text, long-term 10-day weather forecast 
• Up-to-the minute weather for the next 24 hours
• Animated high-resolution radar (US and Japan) 
(New)• Tide prediction, tide times, tide graphs and solunar charts 
• Real-Time PUSH alerts for severe weather events (US)
• Severe weather alerts for US and Europe
• U.S./Europe Composite Cloud Cover Satellite Animation
• Live temperature on home screen badge
• Real-Time barometer (using iPhone and iPad air pressure sensor)
• All data from over 700 NOAA Ocean Buoys
• Global sea surface temperatures 
• Earthquakes 
• Realtime messages about current weather in Notification Center 
• Space weather: geomagnetic activity 
• Interactive & animated weather maps 
• Sharing via G+,VK,Instagram,Twitter, Facebook, email
• Current weather conditions including humidity, wind and pressure 
• Sunrise / Sunset times 
• Moon day/phase, Moonset and Moonrise times 
• Feels like temperature 
• Hourly precipitation 
• Rainfall/Snow amounts (Foreca provider only) 
• Barometric pressure and the temperature trend 
• Hourly UV levels 
Marine weather: 
• Near realtime data from over 700 buoys scattered throughout North America, Alaska, Hawaii, Canada, Europe, and the Caribbean 
• Tide predictions for over 12000 locations worldwide, high, low tide graph and times, sun/moon charts
Global sea surface temperatures: 
• Data provided by NOAA buoys and satellite
Weather alerts: 
• Full coverage for US
Severe weather alerts for Europe: Austria, Belgium, Denmark, Germany, France, Ireland, Italy, Luxembourg, Netherlands, Norway, Spain, Switzerland, UK and Russia